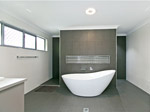 Our experience of building with Nustyle homes was a very positive one and Suzie and Jason helped make the building process relatively stress free. We have built many times before and can benchmark their performance highly against all other builders we have used in the past. They put in a lot of effort upfront, including working with architects, to make the actual building process way less stressful. Not only that, but Jason and Suzie showed flexibility when we needed to change things a little without it becoming a big issue - as it can be with some builders.
Jason was always available when, and we can say relatively rarely, any issues arose. Jason would make contact with the tradesperson directly to resolve matters promptly.
Jason is a perfectionist and cared about finishes and workmanship of the various tradespeople as much as we as the owners were. If it wasn't done to his standards he would often initiate corrections before we even noticed, or could find, any issue. This standard was all the way throughout the process, from ensuring the building site is kept clean and tidy, right through to the final handover.
Suzie was extremely helpful coordinating the supply of the fixtures and fittings and was also available to help contribute thoughts and ideas when there were decisions we needed assistance with. We guess through truly listening to what the customer wanted, Suzie seemed to have a sixth sense in knowing what our taste was and, when asked, guiding us in the right direction.
After sales service has been excellent – Jason has come around to check on minor issues even a year after handover and has always got back to us when something has needed following up. It is very pleasing to have a builder who cares beyond the handover.
We are truly thrilled with our beautiful home and we would recommend Nustyle to anyone considering building with a custom builder where you need the extra attention to design and details.
Matthew and Danica Buckham