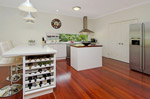 Right after we bought our land and started planning to build a house, a few people around us said things like: "Building a house will be the toughest thing you try to do as a couple" "If you make it through building a house – marriage will be a piece of cake" etc.
We can honestly say building a house with nu-style homes was the most exciting and personally structured process and we feel blessed to have made the call to Jason in the first place for a quote. The most important things to us were our tight budget and the heritage/industrial style we were going for, and it's with great pleasure and gratitude that we write this testimonial for Jason and Suzie. Suzie just understood everything we were trying to encompass in our styling and Jason went out of his way time and time again to ensure we were on budget and to a standard that was second to none. When we had concerns about how something fitted in with the rest of the house, Jason had no problem tabling it to put forward suggestions to help us keep on track.
Since the completion of the build we have had contractors and neighbours from houses around us knocking on the door just to comment on our house! If we were to ever leave the beautiful home that Jason and Suzie have made a reality for us, we will not buy – we will be phoning them to build again! We cannot recommend Nu Style Homes enough!!
Regards,
Hayley Moore and Matt Watson
Cornubia