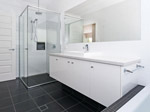 To Whom It May Concern,
I am submitting this letter of recommendation for Jason and Suzie Adams of Nu-Style Homes as exceptional builders of custom homes.

We chose Nu-Style for the construction of our home after careful inspection of a home that the company had built. From the very beginning of the planning process both Jason and Suzie showed us that their approach to the planning as well of building of someone's dream home was a caring and understanding approach.

Any small issues that occurred during the process were dealt with professionally and immediately and Jason's eye for detail and commitment to quality has ensured that the finished product is one we're still freshly in love with 12 months later.
We have no hesitations in recommending Nu-Style homes and Jason Adams as your builder.
Natalie & Andreas
Yeronga, QLD