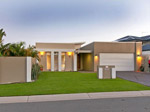 On behalf of Gennine, Jay, Kai & I we would like to thank you for giving your undivided attention during the construction of our new home in Wellington Point.
As you know we received a number of quotes for the house including a number of established name builders. Our decision to go with Nu-Style Homes was based on your honesty, enthusiasm and willingness to help us fulfil our dream.
During construction you have always been available and listened to our wishes. The home is credit to your workmanship and skills as a builder! We are very proud of our new home and would have great pleasure in recommending the Team at New Style Homes in the future.
You have not only built our dream home, you have created a house that is the envy of many.
Justin & Gennine Nichols
Wellington Point